As you are aware, throughout the country, federal, state and local governments are recommending or requiring measures to help stem the COVID-19 pandemic.
At the same time, under guidance issued by the Department of Homeland Security's (DHS's) Cybersecurity & Infrastructure Security Agency ("CISA"), Verst Logistics is considered a critical infrastructure company. CISA's guidance tells us: "If you work in a critical infrastructure industry, as defined by the Department of Homeland Security…you have a special responsibility to maintain your normal work schedule."
As such, our business operations remain open and we will strive to maintain the service levels our customers have come to expect and address any new requests as they arise.
We at Verst Logistics want to reassure you that we are taking measures to prevent or minimize the spread of this COVID -19 virus, including directing team members who can work at home to do so, practicing social distancing, restricting visitors, enhancing cleaning schedules and deploying other recommended mitigation strategies where workers need to be on-site.
In the meantime, we ask for your patience and understanding as we work through these trying times together.
Should you have questions, please contact me or your primary Verst contact immediately.
Sincerely,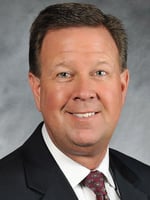 Paul Verst - Chairman, CEO
D: 859-379-1201 | C: 859-393-9322
300 Shorland Drive, Walton, KY 41094-9328